Zooble Technologies' Web Development Team have launched a new online giftware shop for local Mexborough business.
The online shop was built around the requirement for the cobblers business to branch out online with its diversifying range of personalised giftware, offering christening, wedding, memorial and other personalised gifts to a wider audience than can be reached through the local high street: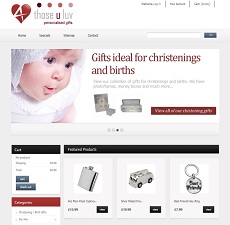 Additional functionality regarding the ability to allow customers to add personalised engraving options (with character and line restrictions on a per-product basis) to their gifts prior to purchase was required, along with specifics such as the customer determining the amount of screw holes to be placed in certain plaques were all part of the functional brief accommodated by the website.
The design brief was left to Zooble Technologies' Graphic Designers, but several sample websites were given for consideration, and all-in-all the customer was highly delighted with the design and functionality of the website.
Visit www.4thoseuluv.co.uk to see Zooble's website development and to browse the full range of personalised gifts available.
Contact Zooble Technologies now with your website requirements, and let us help you increase your online sales presence!