Network Design
&

Implementation

Zooble recognise that a stable, fast IT infrastructure is fundamental to the competitiveness and well-being of your business. We can offer a total managed IT solution from supply and product/service configuration and implementation to ongoing maintenance and support in order to help you maximise the return on your investment and increase business performance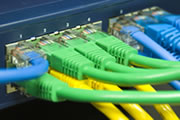 Zooble has a wealth of experience in designing and implementing ICT solutions from single sites to multiple site integrations - see our portfolio for current IT Support and Maintenance contracts.
Whether your organisation is starting up or considering expansion or adoption of new technologies, or whether you simply need cost reduction or assistance with technical issues, it helps to call on someone who has the experience to guide you through this - Zooble can provide an integrated support and consultancy solution in the following areas.
New IT Infrastructure Design & Implementation
Introducing new technology into your organisation or starting your IT infrastructure from scratch? Determining the best approach to take, the most appropriate hardware and software that will best suit your organisation etc. are not easy tasks!
Zooble can provide your business with a full network design and implementation service which will be based on your ideas and requirements, ensuring that your network and systems not only best suit your current budget, but will also be scalable to enable future organisational growth.
Inter-Office Connectivity
Whether it's a single site implementation or connecting an additional site into your existing infrastructure, Zooble have the experience! We can provide cost-effective solutions for seamlessly connecting your offices and allowing staff to share valuable resources and files.
Zooble can provide the full procurement, implementation and configuration to facilitate all your requirements, from sourcing best comms links, to securing offices/data through firewalls, to backing up and replicating data, to remote logins we can provide the one-stop, hassle-free solution for your business, giving you a single point of contact and leaving you to continue uninterrupted with your business.
Existing Infrastructure Troubleshooting, Problem Solving & Upgrading
Zooble offer a free, on-site IT Health Check which will highlight any performance issues or business risks with your current IT infrastructure and processes.
Building on from this free check, we can then provide you with a full report of your IT systems, which will highlight any potential
performance issues with regard to your network topology and hardware- along with recommended solutions and business benefits
business risks with regard to data protection and data security issues, including policy recommendations and solutions where appropriate
business risks with regard to other legislative requirements as appropriate
AV or security threats due to inadequate software and hardware in place
.....recommending appopriate correction and upgrade strategies wherever possible for you to consider implementing in order to ensure your business makes the most of your IT assets and eliminates business risks wherever possible.
On-site Surveys & Network Audit Reports
If you already have reliable IT systems within your organisation you will want to continue to reap the rewards by remaining up–to–date and adapting your systems to keep up with, and take advantage of, continuously advancing technology.
Zooble Technologies can help you by providing practical assessments of your current network and suggesting improvements wherever possible, enabling you to see – in non-technical terms – where productivity and security can be enhanced and to assist in the development of your future IT strategy.
Virus/Malware Protection Procurement, Implementation, Configuration & Management

A successful and effective anti-virus strategy is vital to the stability of any network, effectively protecting your data, improving your IT efficiency and actively protecting your end-points. Successful virus and malware scanning software allows you to stop potential virus infections causing damage to your systems - at source - before they have a chance to release their potentially destructive payload.
A well-designed and maintained Anti-Virus Strategy is vital to proving compliance with many of the Data Protection and Quality Standards currently in force, including ISO9001 and ISO27001.
Zooble Technologies are a Sophos Silver Partner, the leading anti-virus software provider, but we can procure, install and configure any anti-virus solution using market-leading AV solutions of your choice. Whichever Anti-Virus Software Solution you choose, we provide several Care Packages where we can
undertake a pro-active, remote anti-virus solution management service
or
train your existing staff to keep the software up to–date
....... actively ensuring vital continued anti-virus and malware protection for your business.
Secure Firewall Solutions

Effective Software and Hardware Firewall solutions are essential in all IT networks to prevent unauthorised access and secure the organisation's perimeter.
Zooble are a Select Certified CISCO Partner, an industry-leading certification with recognises and rewards achievement of SMB (Small-Medium Business focussing on fewer than 250 employees) Specialisation.
We can procure, implement and configure a secure firewall solution, either software or hardware, that directly reflects the exact security needs of your business, whether this be CISCO or other. Once in place, Zooble offer a pro–active remote firewall management service which will ensure that business continuity and security.
Secure Internet Connectivity
Zooble Technologies can offer competitively priced internet solutions by partnering with extensive communication companies to give you the best quality, service and cost for your requirements wherever possible.
If you're not sure what the difference is between ISDN, ADSL, SDSL, MPLS or whether you need fixed IPs etc. then we can take the hassle out of getting the right service at the right cost by undertaking this for you. We can source and implement
ISDN dial-up
ADSL/SDSL
Managed Internet Solutions
MPLS
Point to Point private circuits
In conjunction with our Secure Firewall Solutions Service, and our Virus/Malware Protection Service, all Zooble's internet link implementations can also include the option of firewall and anti-virus solutions, ensuring that your new internet connection does not compromise your internal network and systems - giving you complete peace of mind.
Wireless Networks Integration
Zooble can implement full and secure wireless network solutions into your existing network infrastructure, enabling you to take full advantage of today's mobile devices - laptops, i-pads, smartphones etc. enabling your staff to work flexibly, seamlessly and securely.
If you're not sure which devices to purchase but can see the benefit of wireless working then we'd be happy to advise you on the best products for your requirements, configure and implement them - the one stop solution to your mobile needs!
Mobile Working & Remote Access Solutions
Zooble Technologies can help you integrate the latest remote working applications and technologies into your IT infrastructure to help your business work more flexible and smarter!
We have experience in connectivity via internet-enabled devices including
connecting the latest smartphones, including Blackberry, i-Phone and Windows Mobile Devices securely into your e-mail environment, delivering communications instantly when out of the office!
implementing and configuring secure remote working applications to securely interact with your office environment, including Citrix and Microsoft Remote Desktop applications, allowing your staff to send/receive e-mails, join virtual meetings or access documents safe in the knowledge that communications are secure and information is safely stored on your corporate network and not on the remote device!
......enabling a truly virtual office environment without compromising on either security or performance!
If you already have a Zooble Technologies' IT Support Contract for your network then mobile device support is part of this package, but if you just want to purchase mobile device support, then contact us to discuss your requirements in more detail and cut out the 3rd party installer or service provider!