Network Cabling
/

PAT Testing
Network Cabling Services
Zooble can plan and install complete data cabling solutions for your IT and phone infrastructures, whether you're adding to your existing cabling or wanting a totally new cabling planned, we can advise you on the best solution for more efficient data transfer.
We can also implement secure wireless networking solutions, giving your staff the freedom to be mobile around your premises.
Desk Cable Management
Are your staff at risk of electrical shock sitting at their desk due to ineffective/unsafe cable management connecting their electrical equipment? The BS 6396 standard for electrical systems in office furniture and office screens states that should a workplace incident occur, you as employer could risk prosecution!
Zooble can securely route all IT/comms and power cables as an added extra service, whilst undertaking your network cabling or PAT testing, ultimately leaving your workplace a safer and neater looking environment.
Contact us
for further details and to arrange a no obligation Cabling/Cable Management quote
Portable Appliance Testing (PAT Testing)
Zooble can provide PAT Testing services at competitive prices, whilst maintaining a professional and safe service. Testing can be arranged at a time convenient to your business, and there is no extra charge for out of hours or weekend work.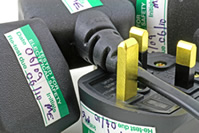 PAT Testing helps to prevent injuries and death from faulty electrical equipment, and is a statutory requirement under the Electricity At Work Regulations 1989. Many insurance companies require your business to comply with this regulation, and as an employer you are also responsible for ensuring that all equipment provided for use by employees is safe as per the The Provision and Use of Work Equipment Regulations 1998. These regulations cover all electrical work equipment – whether fixed, portable, handheld or transportable (examples include: laptops; mobile aircon units; electric fires; drills; hairdryers; PCs; monitors; fridges; toasters; vacuum cleaners etc.)
Failure to comply with these legislations could lead to hefty penalties and imprisonment! Zooble can provide this valuable protection for your business.
We have a clear pricing structure which includes no hidden extras – Zooble will undertake minor appliance repairs, eg. supply/fit new plugs (13A only), correctly rated fuses and plug re-wires completely free as part of our quality PAT testing service.
Contact us
for further details and to arrange a no obligation PAT Testing quote