Database Design
&

Implementation

Zooble have created several database products for the small and medium business user. These are competitively priced and can be customised to suit your individual requirements (reports added/created and branded accordingly) at a small additional cost to the core package.

As a purchaser of any Zooble software or website application, you will be invited to benefit from any upgrades made to the main product at a competitive rate, and where you actively work with Zooble to inform and upgrade the product, we will provide an upgrade free of charge.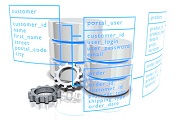 Zooble create bespoke website databases created to meet your EXACT data recording requirements. Please contact us with a broad outline of your requirements and we will be in touch to discuss a solution as soon as possible.
A few of our database projects are described below:
E-commerce websites utilis front end web shops that are updated using back-end functionality to efficiently manage thousands of products and images, and enabling "quick quote" systems to enable sales staff to quickly assist with telephone enquirers.
Mexborough Spiritualist Church's New-2-U jumble website at www.mexboroughspiritualistchurch.co.uk utilises a bespoke database that allows web users to upload an image and details of the article for sale. A donation is required from the seller, via Paypal, and the item then flagged for authorisation by the Church President. Once authorised the article then appears on the Church's website for a specified duration of time, after which it is automatically removed.
Zooble built a property portal for a local company (now closed) - Property Moving Today. This was a database that allowed property images and descriptions to be uploaded by estate agents and has the ability to dynamically flag the property status on the front scroller. The system also featured functionality allowing website users to automatically create brochures dynamically from information held within the database. A powerful search engine with easy custom filters searched thousands of properties to deliver relevant property results. This type of database/website functionality would be ideal for other businesses such as car sales etc.
Top Cat Furniture commissioned a product catalogue database and website to display current stock items on an internal touch screen system. Zooble Technologies implemented the full system for them - bespokely creating a product database and website, and procuring and implementing the touch screen kiosk system. The system is hosted internally within Top Cat's network.
This is just a sample of the database work we have undertaken for our customers so far - all of whom are willing to provide testimonials to our work, so please don't hesitate to contact us and discuss your requirements in further detail. Because all our web and database work is bespoke to the customer (and not templated), this means your data is working for you, and we can adapt any of our solutions to meet your exact needs!
All our database implementations are undertaken with strict security and usability in mind!
Contact us
now to discuss how we can help you make your data work for you!