Website Design
/

Hosting

/

Management

Zooble realise that every organisation has different website needs depending on their target market, budget, and level of commitment to ongoing maintenance. We can take the hassle out of purchasing a domain name and getting the website "up there" by providing the full online solution -
Web Design & Web Development
Zooble design and build websites from YOUR perspective and to YOUR requirements, giving you ultimate control over the look and feel of the site, ensuring that you are fully engaged in, and have a sense of ownership over the end solution.
Whatever your budget we have the online package to suit you - we can provide a full range of websites ranging from
a single page website, ideal to launch your brand image and to determine whether your online presence is generating the kind of interest you are hoping for
a single page, four tab website giving you additional pages to promote your business more effectively
3+ page websites giving you the total flexibility to add web pages/functionality at any time in the future
a large corporate website complete with secure extranet functionality totally written to your bespoke needs
intranets that we can configure to host on your internal networks with functionality totally written to your bespoke needs
simple shopping cart or paypal donation functions integrated into your website (see www.mexboroughspiritualistchurch.co.uk)
full e-commerce solutions with comprehensive payment options to suit your needs (see www.stileonstyle.co.uk and www.zooble-direct.com)
websites that interact with your internal systems and databases, secured as necessary (see our portfolio for Porchester Bedroom Centre's touch screen application)
Whatever your budget or website requirements, the quality of Zooble Technologies' website services provided to ALL our customers does not reduce! We always provide:
full domain and e-mail management - Zooble will purchase your new website name or organise the transfer of any existing website names to ourselves, and thereafter we will ensure that your website name is perpetually renewed on your behalf. You will always be the owner of your domain name(s) and will not have to pay costly fees
a CAPTCHA-valided "Contact Us" page where required - this on-page validation reduces the potential for spammers to harvest your e-mail address
quality bespoke graphic design - none of our websites are built from templates, giving you the option to choose which bits you like and piece them together for your perfet site!
a dedicated Project Manager, providing a single point of contact for all your website needs and to get your website up running within a very short timescale! Read our testimonials on our portfolio page for further information
websites fully W3C and CSS compliant
websites built with usability, navigation and security in mind - fully accessible to the current web and mobile browsers
website with in-built Organic Search Engine Optimisation methods, helping you to be first on the page without additional costs
Zooble's expertise lies in providing feature-rich websites not available from many web development companies- this is highly evident from our portfolio, showing that we can
incorporate different types of galleries to present past projects, still images, video footage or pdf documents
implement database functionality to create touch screen applications
create and embed flash files to add movement to your website but that do not detract from their SEO potential
embed Google search functionality, giving users greater access to all your website content quickly and easily
embed Google translation functionality to reduce language barriers for multi-national sales potential
embed "Blog" and "Latest News" pages and interactive visitor books
incorporate e–Bulletins and Newsletter functionality (user-created or uniquely designed and managed by Zooble)
embed secured forums and chat services
create and present interactive questionnaires to gauge customer response
link social networking applications into your website and vice-versa, creating a professional social networking site that automatically updates from your latest news content
.......anything you can think of incorporating into your site, then Zooble Technologies' Web Design Team are the company to choose!
Whatever your website needs - all our sites are bespoke (not templated) and built to exact customer specifications and business requirements, and therefore Zooble cannot give an exact price without initial customer consultation. Please contact us to arrange an initial meeting to discuss your requirements where we can suggest functional elements and present you with a no obligation proposal and quote. Don't worry if you don't really have any idea of what you want, we can help you with that too!
Website Interaction
Zooble can add "that little bit more" to your website by
incorporating pages and content which you can update yourselves without having to know any web programming, and from your own PC (Content Management Systems)
extensive analytical information to allow you to track site usage and develop your marketing strategy more effectively
incorporating database facilities bespoke to your organisation (and interacting with current internal systems to eliminate data duplication)
integration of various payment functions
All Zooble websites are designed and tested to meet the latest W3C xhtml & CSS and acessibility standards, but if you have a specific requirement to meet the exact needs of your customers over and above this, then please don't hesitate to ask!
Web Hosting
To make your new website accessible worldwide, you need to hire space on a web server which has a permanent, reliable internet connection along with adequate available bandwidth. Zooble can provide this service for you.
Hosting via Zooble is with a respected third party provider, and provides a physically secure environment with high speed network access, from full 24/7 server monitoring and advanced UPS and firewall management.
Search Engine Optimisation
Once Zooble have created and hosted your website, we can work with you to enhance search engine rankings, suggesting appropriate strategies in relation to your individual business and marketing requirements. We can also provide an Enhanced Search Engine Optimisation service to help your website move up the rankings wherever possible - please contact us for more details and a free, no obligation quote.
Contact us
now to speak to one of our Web Design Team and get your business website online and working for you!
Domain Name Registration/Management
A domain name is the website address that you type into your browser (eg. Internet Explorer) when you wish to visit a particular site. For example, our domain name is 'www.zooble.co.uk'.
A unique (and appropriate/professional) business domain name is very important to ensure that customers can find (and remember) your website easily. A potential customer is more likely to remember 'www.yourbusiness.co.uk' than the lengthy free addresses usually provided with free e–mail accounts, such as 'www.yourbusiness.pwp.virginmedia.co.uk' – and it looks far more professional!
Domain names typically last for 1 or 2 years, after which they have to be renewed or will be subsequently returned to the market for someone else to buy. Therefore you need to ensure that you continuously manage these accounts effectively. Zooble can help guide you in choosing the correct domain name and can then provide a registration and management/configuration and renewal service, ensuring that you never lose your vital online business identity/name.
Zooble can register, host and maintain a domain name for you! We do not charge to administer a domain name on your behalf, but other charges will apply for the actual domain name purchase, hosting of your website and additional extras such as e–mail forwarding and spam filtering.
Zooble will host websites that we have created for you or alternatively we can arrange transfer of your existing site onto our servers, saving you money over current hosting solutions - contact us for a free, no obligation hosting quote.
Contact us
now to speak to one of our Web Team and get your business name recognised worldwide!
E–mail forwarding
The purchase of a domain name and hosting will also allow you to have professional–looking e–mail addresses, such as 'John.Smith@yourbusiness.co.uk', through the use of e–mail forwarding, or sales@yourbusiness.co.uk – this can then be configured to drop into your personal e–mail account or accessed via the web from your domain login. An added benefit of this service is that you are free to change your personal Internet Service Provider at any time without having the hassle of notifying customers of change of e–mail or having the costly expense of re–printing letterheads etc. – the e–mail name stays the same! Zooble can easily manage this for you.
eShot ManagerZooble's Newsletter/e-Bulletin Solution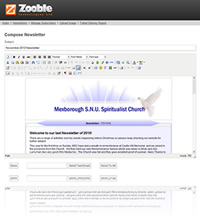 Zooble's Newsletter/e-Bulletin Solution
Using Zooble's eShot Manager Newsletter solution you can keep in touch with all your customers in one go, and in an efficient and cost effective way which helps to keep the planet green! eShot Manager is available in two versions - eShot Manager and eShot Manager Lite, priced accordingly.
Corporate Identity and Marketing Materials
Once you have your online identity, you could add the option of a complete marketing solution and let Zooble design your letterheads, business cards, and leaflets etc. It's good business sense to have brand continuity throughout your products as they are then more easily recognised throughout the market.
In partnership with our quality printers, Zooble can also commission printing of our designs for you, giving you a one-stop solution for all your graphic design and branding requirements.
Contact us
now and also see our branding portfolio for more information on how we can help you to enhance your corporate image