renew Leeds approached Zooble Technologies' web team to re-develop their existing corporate website which was originally developed in Drupal and was cumbersome to update and illogically structured, making the website hard for users to navigate and find content/information about the company and its services.
renew wanted to be able to continue to maintain the website themselves, but required an intranet and private area adding for their partner and staff use.  The website was developed in Wordpress, but elements and pages were created that allow renew to create pages that are that little bit more graphical than normal, yet easy to embed themselves. A gallery of images and case study pages now describes the work of the company to interested parties, increasing their online status to local and national companies.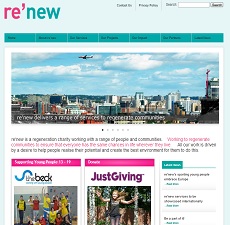 The intranet element required a forum and document management element to enable staff to more effectively collaborate and use their internal resources more effectively.
The management of renew are highly delighted with the new website and we look forward to working with them in the future.
Visit www.renewleeds.co.uk to find out more, or contact Zooble Technologies' web team to give your corporate website a refresh.